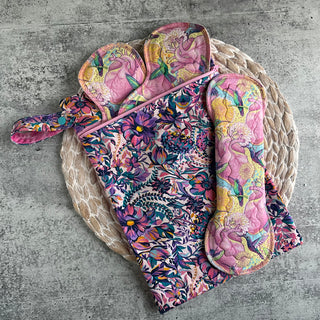 Custom Cloth Storage
Wet Bags - Available in three sizes and two zipper options, these wet bags are essential for storing and traveling with cloth items. The waterproof lining will keep all of your items contained cleanly and discretely.
Pad Wrappers - Available in three sizes our pad wrappers are ideal to keep all your clean or used pads in your pocket, purse, gym bag, back pack, or car. Featuring beautiful fabrics and soft waterproof fabric lining you will be able to carry and change your pads safely, hygienically, and unnoticed.
*As of July 2023 - Custom and made to order items will be limited to a manageable number each month. Once the monthly limit for custom orders has been reached some or all custom and made to order listings will be removed until the following month. This is to avoid delays and ensure every customer receives quality items in a timely manner. If there are no visable listings, or an item you're looking for isn't here, please check back with us on the first of next month, or feel free to reach out to us directly. Thank you for your understanding!

Custom and made to order items include: pads of all absorbency levels, gusher pads, liner pads, starter kits, pad wrappers, wet bags, cloth kitchen towels, facial rounds, and interlabial pads.