Sustainability. Health. Comfort. Style.
Alta Luna cloth solutions
Providing safe and beautiful eco-friendly alternatives for your lifestyle. Reusable cloth and household items that offer convenience, effectiveness, and piece of mind.
Gusher Pads. The most saught after.
Plush velour tops the queen of heavy pads. Slits create texture that immediately trap everything. Unparalleled overnight and postpartum security and luxury. Slide image bar to see how the exposed layers transform when washed.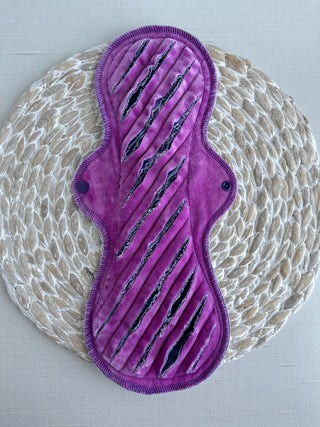 Essential Collections
Shop sustainable options for you and your entire household. Learn how around here green is gold; periods are protected, beautiful, discreet, and comfortable; and custom items can be made just for you the exact way you want them.
Pad Wear
This short clip demonstrates how to place a pad in your underwear, how the snaps work, which side faces your body, and offers a close up look at the texture of our organic fleece backer fabric: the reason cloth pads stay in place without adhesives.
"Amazing customer service. Informative and willing to answer all the questions I had. Definitely went ABOVE & BEYOND. So glad I found this shop. Will continue to shop here!"
– Jenna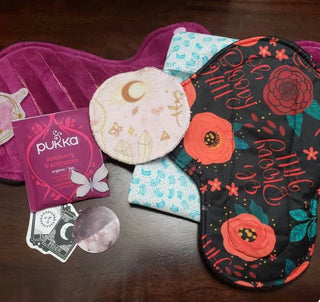 "I am super excited for this and the seller is wonderful 😁😍 Edit: this is the best pad ever ever and I highly recommend getting 1 super worth the money!"
– Christina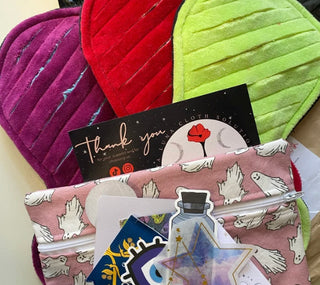 "I am super excited for this and the seller is wonderful 😁😍 Edit: this is the best pad ever ever and I highly recommend getting 1 super worth the money!"
– Julia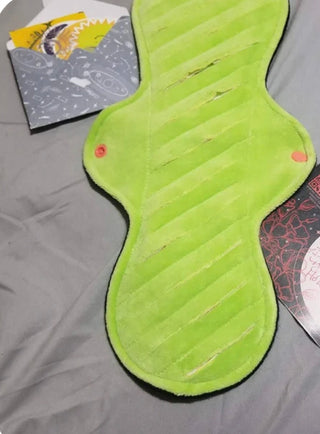 "Absolutely adorable and I can't wait to use them! :)"
– Elizabeth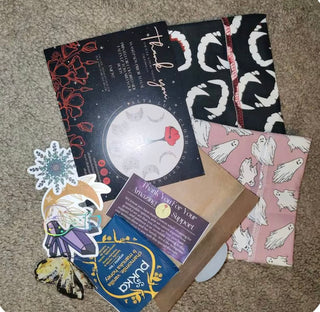 "I love these so much, they're great quality, and super cute. i have something to make my period more bearable✨💖💖💖✨"
– Savannah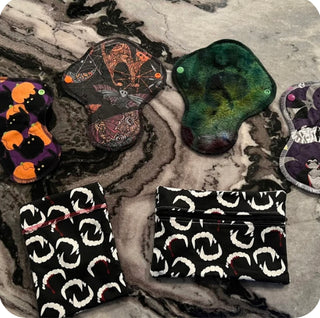 "love them. super absorbent. easy to clean. i've been using different types of cloth pads from a bunch of different places and these are my favorite by far. highly recommend. came with a free small pad, tea, and stickers too :)"
– Phoenix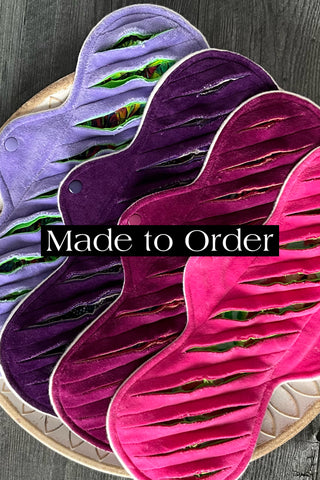 "I adore this, I have it in my purse right now. It's well made and the perfect size!"
– Scarlett

"I love this seller! I have ordered pads from them a few times now and I've always been happy with my order. Their pads are exactly as described and very good quality. On the rare occasion that a mishap happens, the ship owner is quick to communicate and fix whatever has happened. For this batch I got the extra long overnight sized ones (this shop lists them under the size "ultra" And even has an "ultra flare" to provide more side coverage too). They provide just as much coverage and abstraction as the disposable ones, but they're even more comfortable. Excellent products, excellent customer service!"
– Tara
"My second purchase from this store proved to have some difficulties in shipping, but through communication everything was resolved and I received my things. These pads are the same excellent quality as the first ones I got, and that is why I retained her to buy more. <3"
– Liz
"This gusher pad is, hands down, the best cloth pad I've ever used. A genius design, super soft velour, and just a total powerhouse. It took much longer to arrive than originally listed, but the seller was responsive and I feel it was 100% worth the wait. I got the 14" which is a bit bigger than I think I really needed, but despite it being big, it didn't feel bulky. My only regret is I only purchased one."
– Skylar
Our Blog
What we're thinking, talking about, and up to at the Alta Luna Headquarters.
Our reasons for traveling the sustainable road are as diverse as we are. It doesn't really matter if you're here because you care about our oceans, soil, and ecosystems; or if you are...