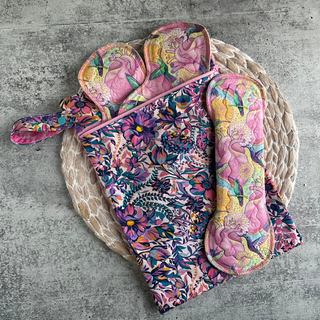 Cloth Storage
Wet Bags - Available in three sizes and two zipper options, these wet bags are essential for storing and traveling with cloth items. The waterproof lining will keep all of your items contained cleanly and discretely.
Pad Wrappers - Available in three sizes our pad wrappers are ideal to keep all your clean or used pads in your pocket, purse, gym bag, back pack, or car. Featuring beautiful fabrics and soft waterproof fabric lining you will be able to carry and change your pads safely, hygienically, and unnoticed.
Items in this collection are Ready to Ship only. If no listings are visible our Ready to Ship Storage items are currently out of stock. Watch our red information banner on our home page for information on upcoming Ready to Ship restocks. For custom storage solutions click here.